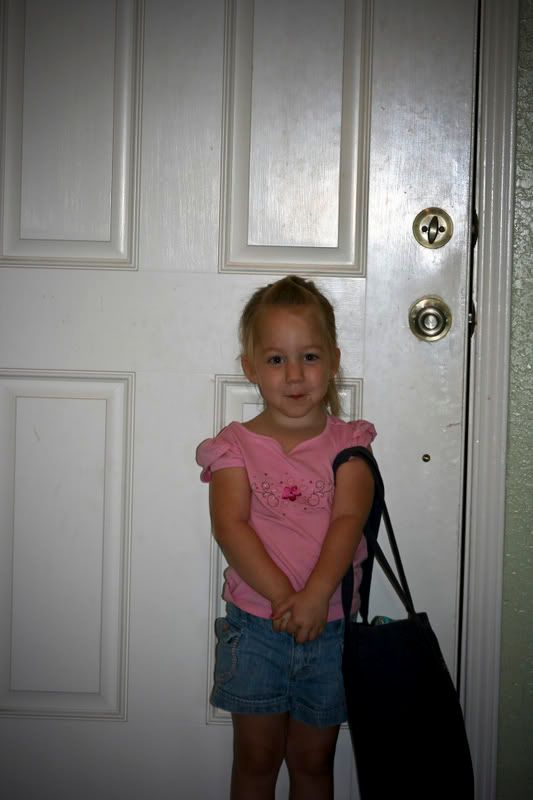 Seriously! Its not like she is moving out. Or even starting real school, OR even going to a new place. I mean come on, she's been in daycare since she was 6 months old! She's been at this particular school since she was 18 months old. She isn't my first child to go to pre-k, or the second. But she is my last.
Shouldn't this be exciting? She is starting off on a new adventure. She will learn a ton this year in preparation for Kindergarten. She isn't even 4 yet. Is she really ready? 9 more months until we can mark 'full time daycare' off our budget. THAT is exciting, right? That will be a nice big raise for us, and I'm happy about that and all - SO happy!
I was not prepared for the overwhelming feelings this morning. Just taking her pictures got all choked up. Maybe it was because she was off for the summer with her big brothers? Maybe its the fact that she looks so grown up? Or maybe its the fact that her birthday is this weekend? I bet it's really just PMS!
Leaving her supplies in the same class as her older brother was such a sense of de ja vu. It seems like just the other day we left him off there. He told us the other day "It's just not right, I had to work harder to get to this class". And he is right, though I'm not sure how he knows that he was almost a full year older when he started.
My heart broke when she cried. I broke the cardinal rule and went back in twice to grab her and hug and kiss her. I don't care if they don't like it! I pay them for goodness sake, if I want to kiss my baby while she still wants me too I'll do it by golly!
Baby girl, I'm sorry your best friend is in the other class. I hope that is the biggest disappointment you face for many years to come! I love how you took it so well and just appreciated the time you did get to play with her. Please keep that positive outlook on life!
And don't cry tomorrow, I'm not sure my heart can take it. Okay?